Wine Down Wednesday With Janis
Epi-Sold 5: Authenticity
Happy Wednesday! It's Wine Down Wednesday and our word today is "Authenticity". But you know what? I really want to start with Valentine's Day and wish everybody a Happy Valentine's Day tomorrow! So, needless to say, I got little treats- actually, the best way when you've been married for 30 years to get exactly what you want is to just order it yourself. One of my friends I saw on Facebook picked up flowers for herself. So I have some chocolate covered caramels, and for Ed and Maria (and I hope she's not watching because they're already sitting on her desk when she gets to the office in the morning) I got some chocolate covered Nutter Butters. So two people are going to be super happy tomorrow. And also, tomorrow we're going to be out and about with some cookies with a tag that says, "You are the heart of our business. Thank you for being the sweetest part of Living in Lenawee Realty". So you want us to drop by a little Valentine's Day gift for you? Just give us a little shout out on Facebook and we'll come find you sometime tomorrow.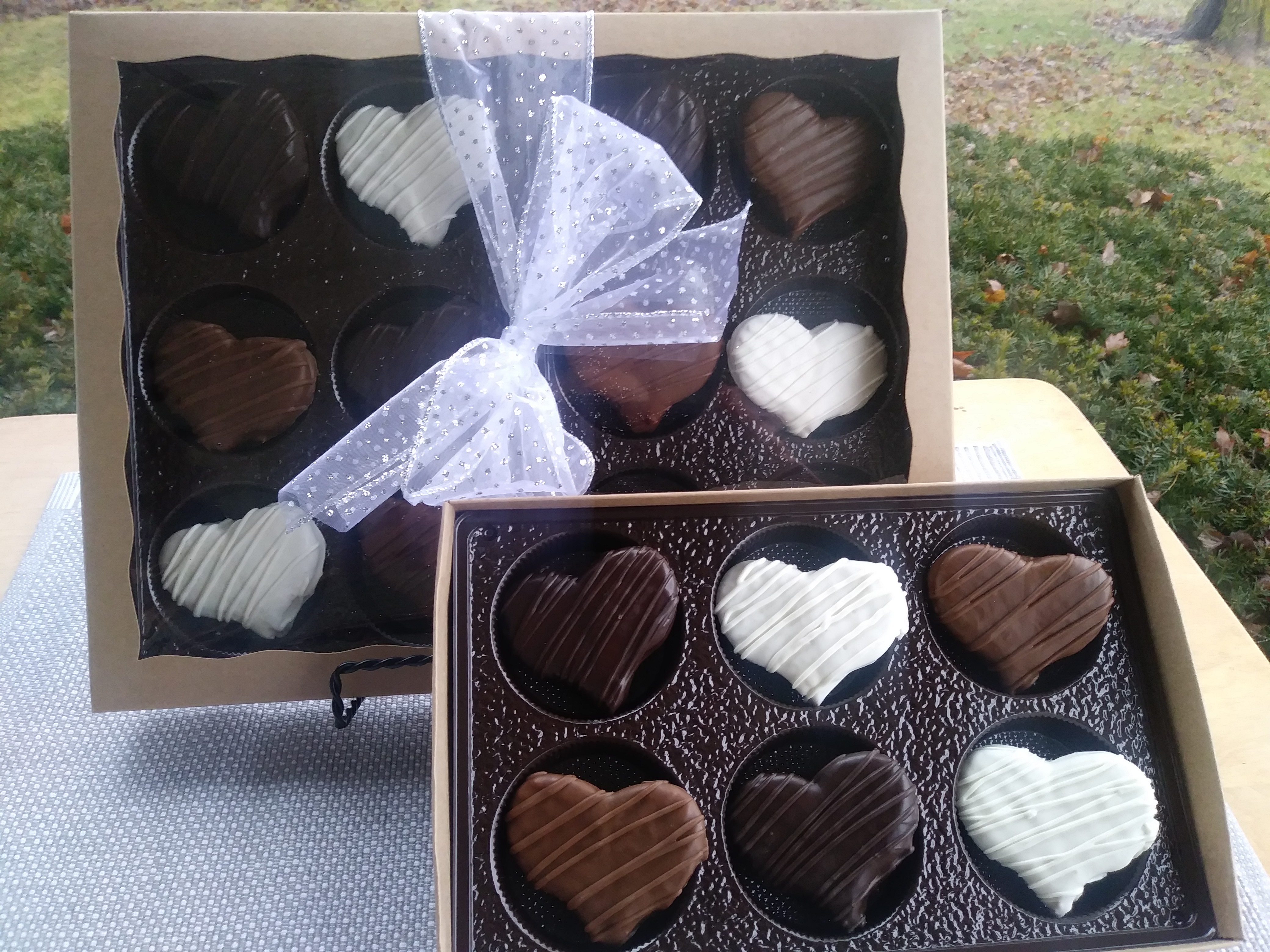 So this is Janis with Living in Lenawee Realty, third generation of living in Lenawee County, 23 years of selling real estate, and of course, coming up on our 5th Anniversary of Living in Lenawee Realty. We hope you're all planning on joining us on March 3rd at the Black Fire Winery. We will be there from 2:00 - 6:00 welcoming everyone.
So this whole idea of Wine Down Wednesday, I really don't know what to think about it. I love Saturday Spotlight where we go out and interview small businesses, we talk about what they're doing, you turn around and patronize their business like Dipped Custom Candies and Gifts. Laura Hartmann does a great job. But I really appreciate everyone patronizing them. I've got a lot of questions about what to do with dogs and their paws and then people say Red Mill, so that part I love. But Wine Down Wednesday I really suffer with. Should it be Wine Down Wednesday? Should we talk about real estate? Should we talk about home decorating? We'll talk about statistics. Should we talk about my favorite words and some of my routines? I really don't know. So I guess my questions is: What works for you?
Because I would love your opinion! So shoot us a message, drop us a note. We would love to know what you think. I'm throwing around Wednesday morning maybe Work Out Wednesday and we'll talk about a work out tree and then talk a little bit about real estate.
So today my word is Authenticity. Every morning I start with Miracle Mornings. So Hal Elrod says "SAVERS". S: Silence or Meditation, A: Affirmations or positive thoughts, V: Vision or a view of where you see yourself, E: Exercise, R: Reading (Which I really don't like), S: Scribing or journaling, which I'm getting better at. When the alarm clock goes off at 5:00, I don't turn on the T.V., I don't turn on the radio. I start my morning really in silence at the beginning of my day. And when I get in the car, I really don't turn the radio on. I know my friend Kathy Williams is not going to be happy at WLEN. But I really just want to take those moments, that 10 minute drive to my first appointment to get to the office to really focus on my day. So I try to listen to a podcast, or YouTube of maybe an email from Darren Daily, Hal Elrod, Rachel Hollis are just some of my favorites. Matthew Kelly is of course up there as well. One of my favorites is Minute with Maxwell and you can sign up for it. It's a great email to start out your morning with and it really just gives you some different tips to really start your day in perspective. The word he used a couple of days ago that I love is "Authenticity". What John says is that that is the new standard of leadership. You don't have to be perfect, you just have to be authentic. He says that you have to be comfortable in your own skin and true to others. He says, Humility. That they do what they say, and they say what they do. Don't be afraid to ask people for help or to give you advice, which we truly don't.
This afternoon we had our coaching call with Ms. Sarah. Her question to me was, "Why do you say that Living in Lenawee is the best, and we don't need to be the biggest real estate company?" And my answer is: Authenticity. Be true to yourself so that you can be true to others so that you can lead them to the course that they need to go. And that's really how we believe at Living in Lenawee Realty that we treat our clients and customers through their real estate transaction. So if you're looking to buy or sell in 2019, Make your Move with the Montalvo's.
Give us your feedback. Do you want to see Work Out Wednesdays? Do you want to see Fabulous Fridays? Do you like the idea of Wine Down Wednesday with me? Because I really like the idea of coming home from yoga and having a glass of wine with you. So have a great night! We'll see you a week from Saturday for Saturday Spotlight. We've got a great one coming. We look forward to seeing everybody. Stay warm. Stay dry. Drive safe and have a great Wednesday evening!
Looking to Buy a Home? Check out local properties!
Looking for a local expert to sell your home? See what your home's value is!